EnteraLoc Flow™ is the first seamless, closed-loop enteral feeding solution that combines a spill-proof pouch, direct-connect ENFit® device, tube and nutritious food options in one complete feeding system.
Learn More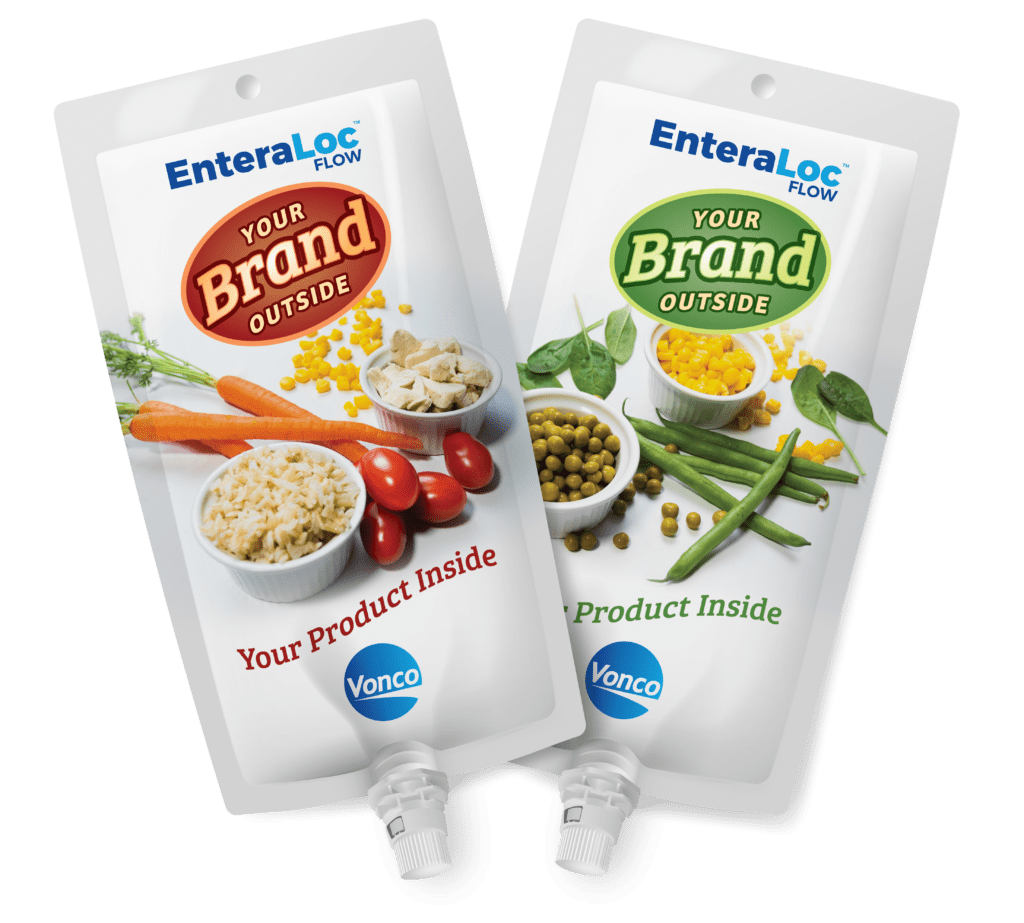 Whether in the clinic or the home, the EnteraLoc Flow feeding solution is designed to support or improve the enteral patient's lifestyle.
Learn More
EnteraLoc Flow is a contract manufactured solution sold by brand owners direct to hospitals, health systems and home care patients. As a complete solution, EnteraLoc Flow™ reduces the complexity, cost and risk of sourcing, manufacturing, and distributing enteral feeding. It also reduces shipping/storage waste and spoilage with 100% guaranteed leak-proof packaging.
End-to-End Contract Manufacturing
Services include product design, prototyping, tooling and assembly line production, acquisition of materials, testing, product certifications, and complete supply chain management through filling.
Vonco produces spouted pouches from start to finish. Our equipment can easily insert interchangeable spouts into flexible pouches which helps us achieve fast turnaround.
Spouted pouches are becoming more prevalent in healthcare due to sustainability drivers and the availability of an increasingly wide variety of convenient spouts and fitments.
Our lab line filling equipment and processes give us the flexibility to test small batches to meet your specifications. Or, Vonco can drop lab filling equipment at your facility.
Direct Connect ENfit/En+ Spout
EnteraLoc Flow comes ready-to-use out of the box. Simply select the preferred meal and attach the direct connect device to the feeding tube. That's it.
Our commercial filling equipment and processes give us the flexibility to package retort foods in a format that meets your specification. From small batches to large production runs, our linear fillers can automatically dose, fill and cap pouches.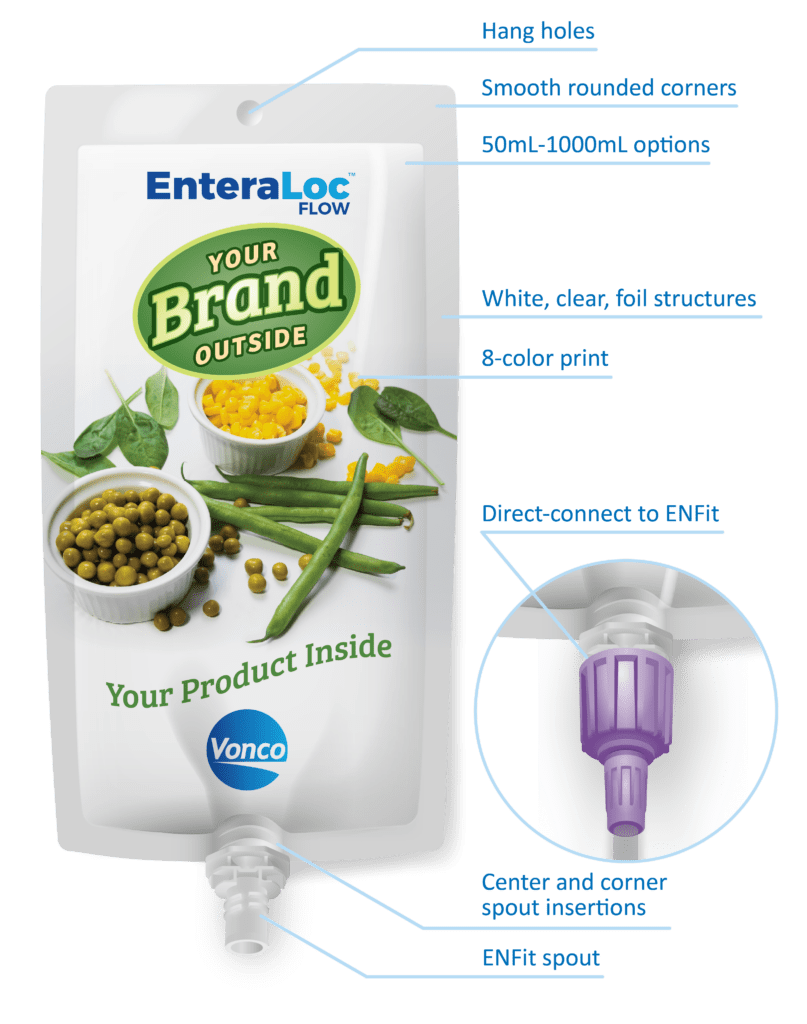 FDA 510 (K) Cleared

Patent Pending

ENFit compliant

Spill and leak-proof

Secure direct connect spout

Custom pouch shapes

Fully branded, printed

Hot and cold fill capable

High pressure processing

Aseptic (retort) packaging materials

Easy to use 

Gravity, squeeze, or oral delivery

Multiple sizes

Automated filling

Blenderized and unblenderized formulas

Hang hole
Easy to use

Better nutrition

Reduce messy waste

Saves time

More mobility

Improves outcomes
Complete end-to-end operation

Private labelling

Preferred nutrition formulations

Multiple package sizes

Hot and cold fillable

High pressure processing

Automated filling/retort

100% Leak-proof guarantee
Rapid Commercialization Process
Vonco reduces 
the complexity and cost of sourcing, manufacturing and distributing enteral feeding solutions by offering customized
end-to-end
manufacturing
 services.


2022 FPA High Achievement Award Recipient
EnteraLoc Flow is recognized by the Flexible Packaging Association and won four gold award categories in 2022. The categories included:
Gold Award, Expanding the Use of Flexible Packaging
Gold Award, Technical Innovation
Gold Award, Sustainability
Gold Award, Packaging Excellence
Quick Quote
Use this quick form to request more information from one of our experienced product experts.
Already know what you need? Click here
"*" indicates required fields